It's wild how there is an endless amount of places for us to explore, even just in our hometowns! I'm so excited about the year ahead, but first, I want to look back on some of the best things of 2022.
The meal I can't stop thinking about:
Duckfat in Portland, Maine – First of all, this city is so special when it comes to food. I've never experienced anything like it. Meal after meal was incredible. But this intimate spot really stood out to me – the food, the vibe, the drinks – all of it was such a stand out. Obviously you have to get the fries but everything is amazing.
The best books I've read:
Who is Maud Dixon by Alexandra Andrews – a really fun, "who done it?" read
The Sign for Home by Blair Fell – this book changed me and opened my eyes to the deafblind community.
The Book of Longings by Sue Monk Hill – this book was such a comfort to me this year. I loved hanging out with Jesus in this imaginative way.
The best thing I bought:
My Leah Platform loafers! – I got a job this year and these loafers raise the level of all my outfits and make me feel so professh.
Best Memory:
Dancing on the boat in Turks!! I turned 40 this year and being on this boat with all my best girls, dancing the day away was such an epic memory for me. I'll never forget it.
A moment I felt proud of myself
Getting in the ICE COLD water of Slide Rock State Park in Sedona to play with my kids. Let me tell you – I did NOT want to get in this water. Like, when I say it was cold, it was ICE COLD. But I was by myself and I knew that I wanted them to have fun and sometimes you have to be the leader. We ended up having such a blast and I was so glad I pushed myself.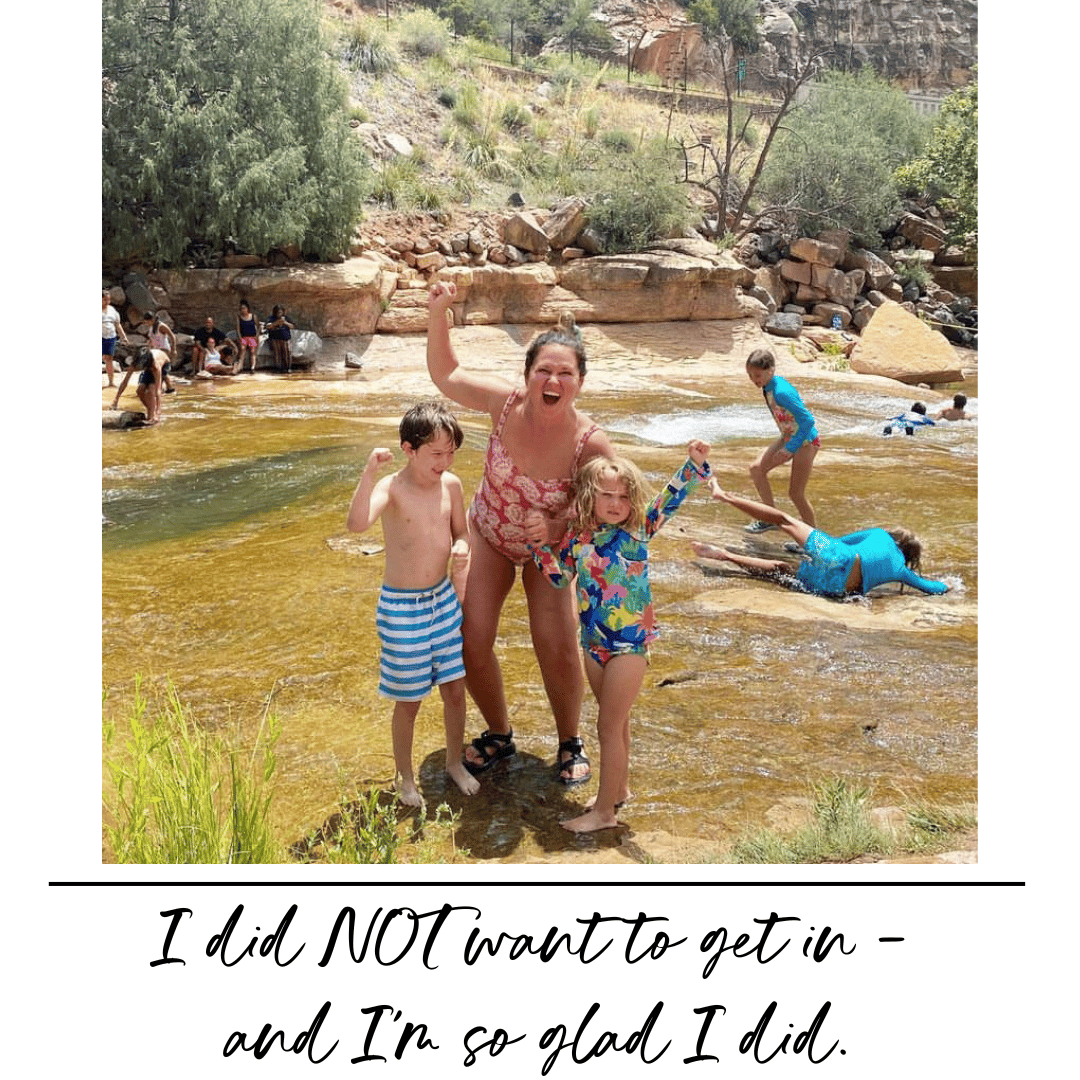 Best Tourist spot:
Buckstaff Bathhouse – I love weird things. And being bathed by another person in a bathhouse was at one time a normal thing and now it's a special tourist thing. Hot Springs, AR is where it's at to go back in time and wrap yourself in a sheet and take a bath, privately, but also around other people. It's weird and I love it.
Best Hotel:
Under Canvas Grand Canyon – There are hotels and then there's GLAMPING! This is so fun! You get to camp but you get a BED and an actual TOILET and a fresh brewed COFFEE every morning. Each of their locations has its own unique flair but no matter where you choose to go its a must stay!
Best coffee spot:
My little local Communion Coffee is the place for me. For my best coffee spot I thought it made sense to pick the place I find myself most often. To me, their drinks are perfectly balanced and I love their seasonal offerings – in the summer they have blueberry syrup, in the winter they have spicy mocha with chocolate bitters. There are breakfast tacos and I always see someone I know. Who wouldn't love that?
---
---
Cheers to all the possibilities and adventures of 2023!